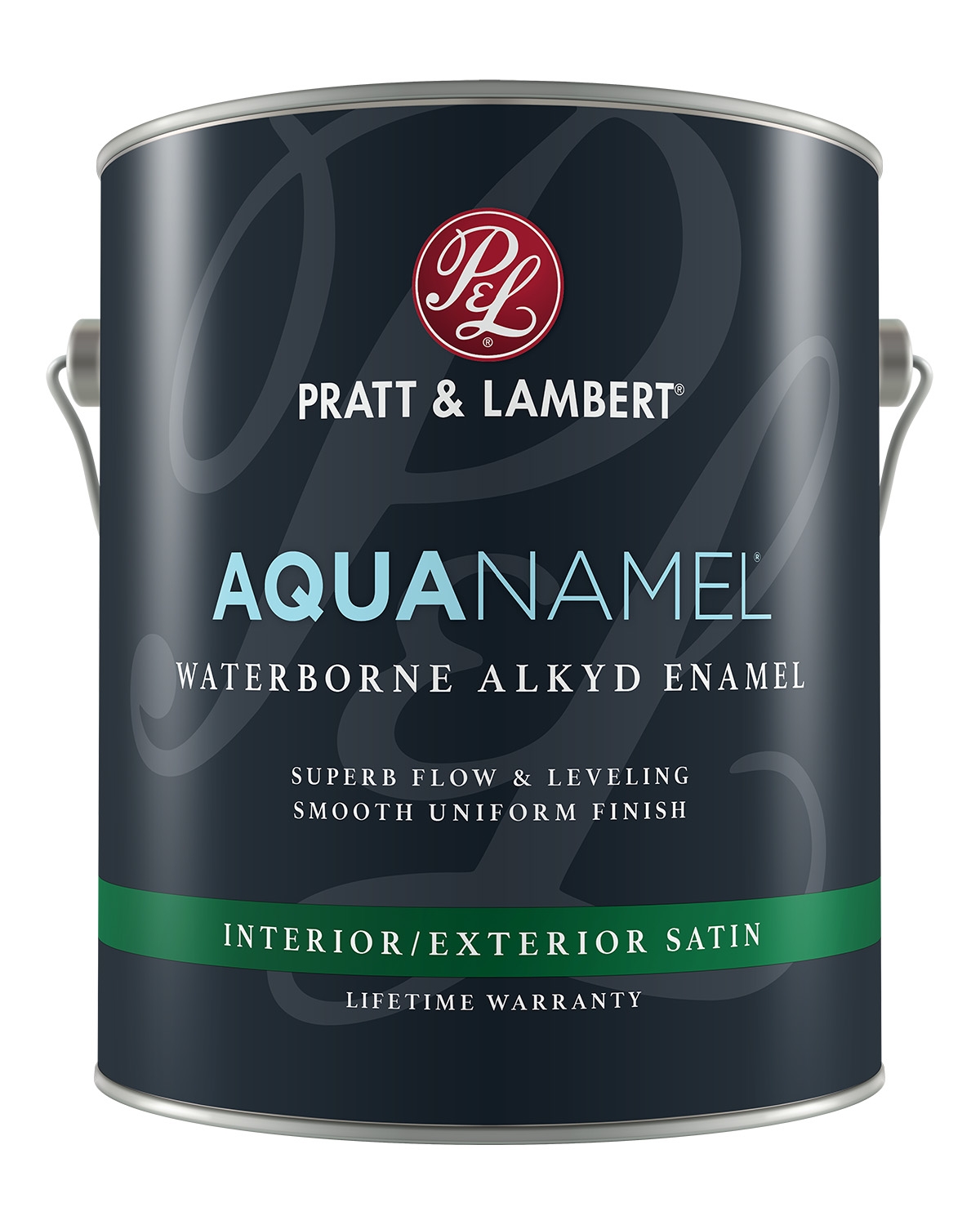 Pratt & Lambert Aquanamel® Waterborne Alkyd Enamel
Aquanamel® Waterborne Alkyd Enamel is a premium quality coating that offers superb flow and leveling and a smooth, durable finish. It provides the convenience and ease of use of a waterborne coating with the application and performance of a traditional oil-based paint. It is easy to apply and cleans up with soap and water. It is ideal for use on interior and exterior trim, doors and cabinets.
Find a Dealer
Excellent brush, roll and spray application
Extended open time
Low VOC -- less than 50 g/L
Perfect for interior and exterior cabinets, doors, & trim
Cleans up with soap & water -- no solvents required
May be applied in temperatures as low as 35°F
Superb flow & leveling for a smooth, uniform finish
Cures to a hard, durable finish
Size: 44 16 20
Finishes: Satin Semi-Gloss Gloss
Coverage: 400 ft²
Application: Nylon/polyester brush, 1/4"-1/2" nap woven roller cover, airless spray
Dry Time: 1 hr to touch, 4 hrs to recoat
Water Cleanup: Water Cleanup
Warranty: Lifetime Warranty
Drywall Wood Plaster Masonry Concrete Metal
Satin
Satin offers a subtle shine, easy upkeep, and cleans up well on most exterior surfaces: wood, steel, stone/cement, siding, shutters, and doors.
Semi-Gloss
Semi-Gloss has a lower shine than gloss and is durable enough to resist the elements. Use it on doors, shutters, trim, and eaves.
Gloss
Super-durable, stain-resistant, and scrubbable, choose Gloss for high-traffic areas and anywhere moisture resistance is a must.